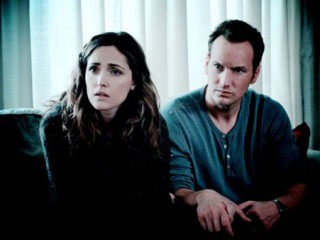 Film:
Insidious
Starring: Patrick Wilson (
Morning Glory
and
The Switch
) and Rose Byrne (
Get Him to the Greek
and
Knowing
)
Director: James Wan (
Saw
and
Death Sentence
)
U.S. Release: April 1st, 2011 (Rated R)
Genre: Horror
Runtime: 102 minutes
Hello ... my name is David Traverso and I'm a horror movie-oholic. I've been hooked ever since my childhood when classics like John Carpenter's
Halloween
and Wes Craven's
Nightmare on Elm Street
kept me up until all hours of the night. I can't really put my finger on what it is I love about scary movies but one thing's for sure, there's nothing quite like being afraid. Hence, when the
Philadelphia Film Society
(I urge all to join) announced their advance screening of James Wan's latest scary movie,
Insidious
, I jumped at the opportunity.
The Lamberts are looking for a fresh start. Josh (Wilson), a local school teacher, is working hard to support his wife Renai (Byrne), a struggling songwriter, and their three children. Once they finally get settled into a new home, their son Dalton suffers an accident and unexpectedly goes into a comatose state. When strange occurrences begin happening throughout the house, Renai suspects their new home may be haunted. Yet, no matter what she thinks, nothing could prepare her for what she's about to experience.
James Wan, the acclaimed director of the 2004 hit
Saw
, gives a valiant effort, but despite his classic approach, the story behind
Insidious
is too outrageous to be believable. To Wan's credit, however, he does successfully create a suspenseful movie experience. The film incorporates spine chilling music and sound effects that perfectly complement its intense mood.
Insidious
has many memorable onscreen moments for true horror fans to enjoy, but at the root of it, it's impossible to get past the movie's dull, regurgitated plot.
It's definitely worth noting that the film's special effects are solid, and the acting is slightly above average for its genre. It's rare to see Patrick Wilson in such a role, but he was adequate as the father of the household. Supporting actress, Barbara Hershey, was also as equally creepy in this picture as she was in her Oscar nominated film
Black Swan
.
At the end of the day
Insidious
will be praised by some and laughed off by others. I accept a horror movie for what it is, and this movie was certainly entertaining. If you can look past the far fetched storyline, you will be able to enjoy
Insidious
for what it is.
Stars: 2 stars out of 4
Grade: C